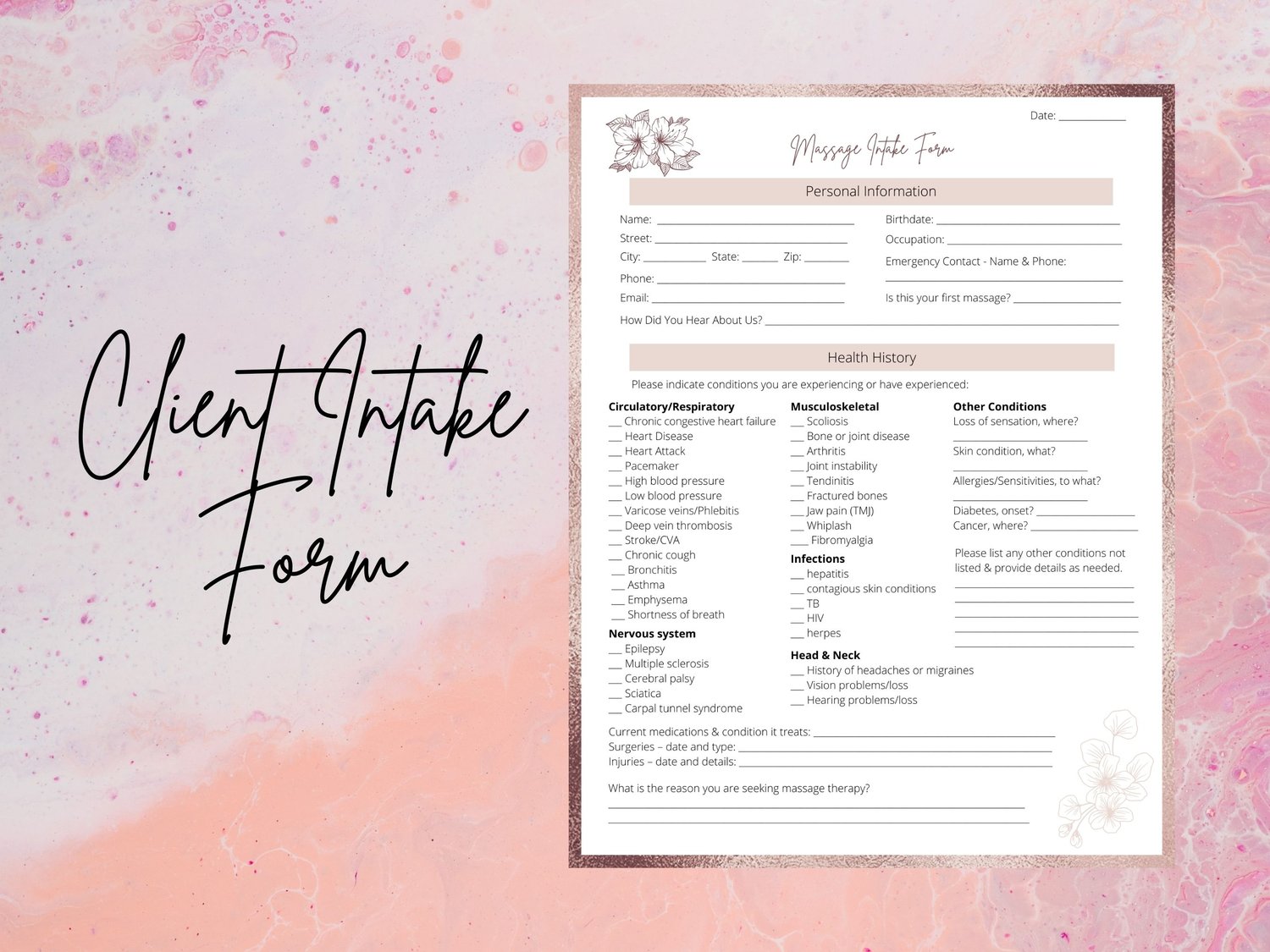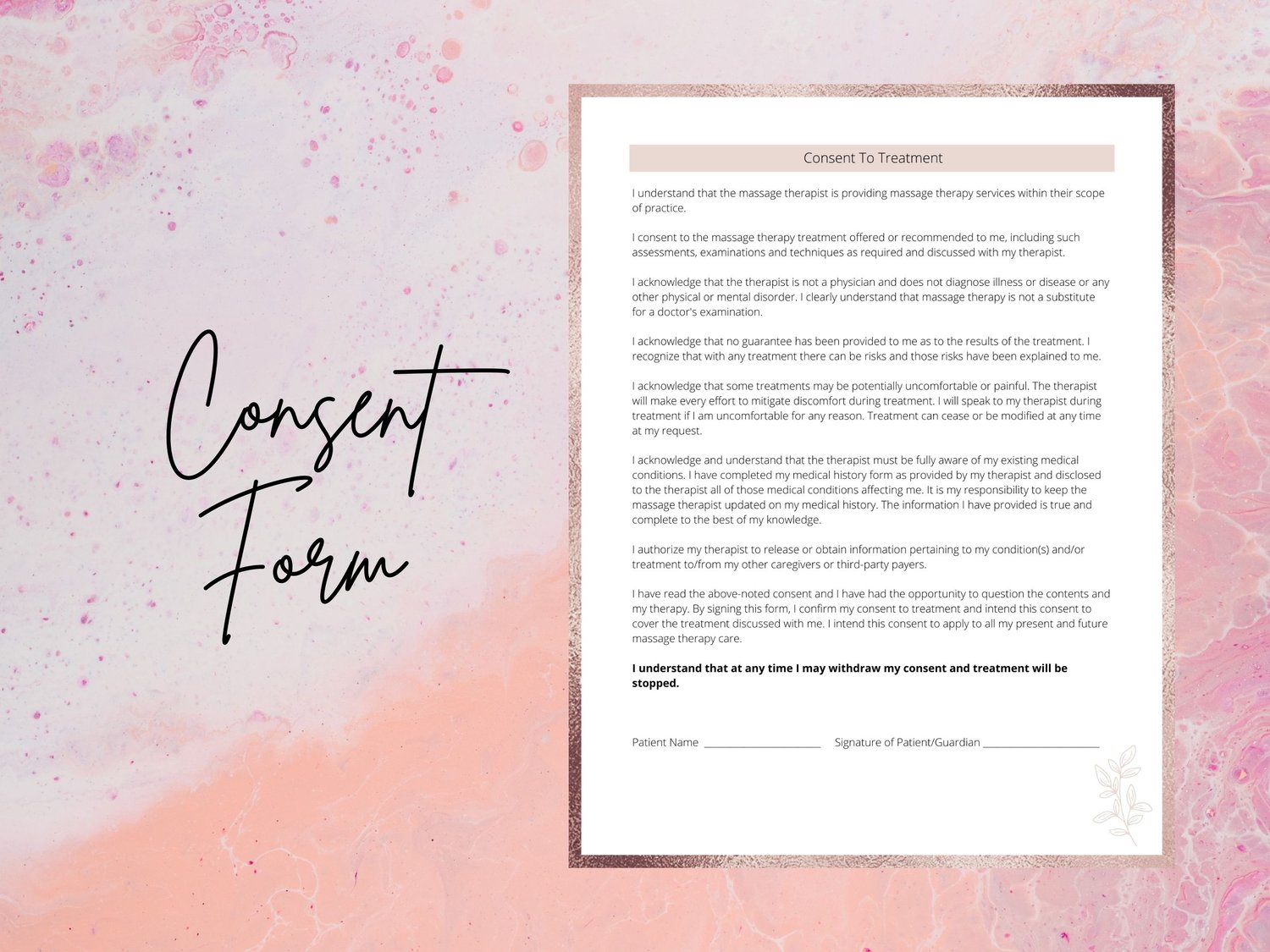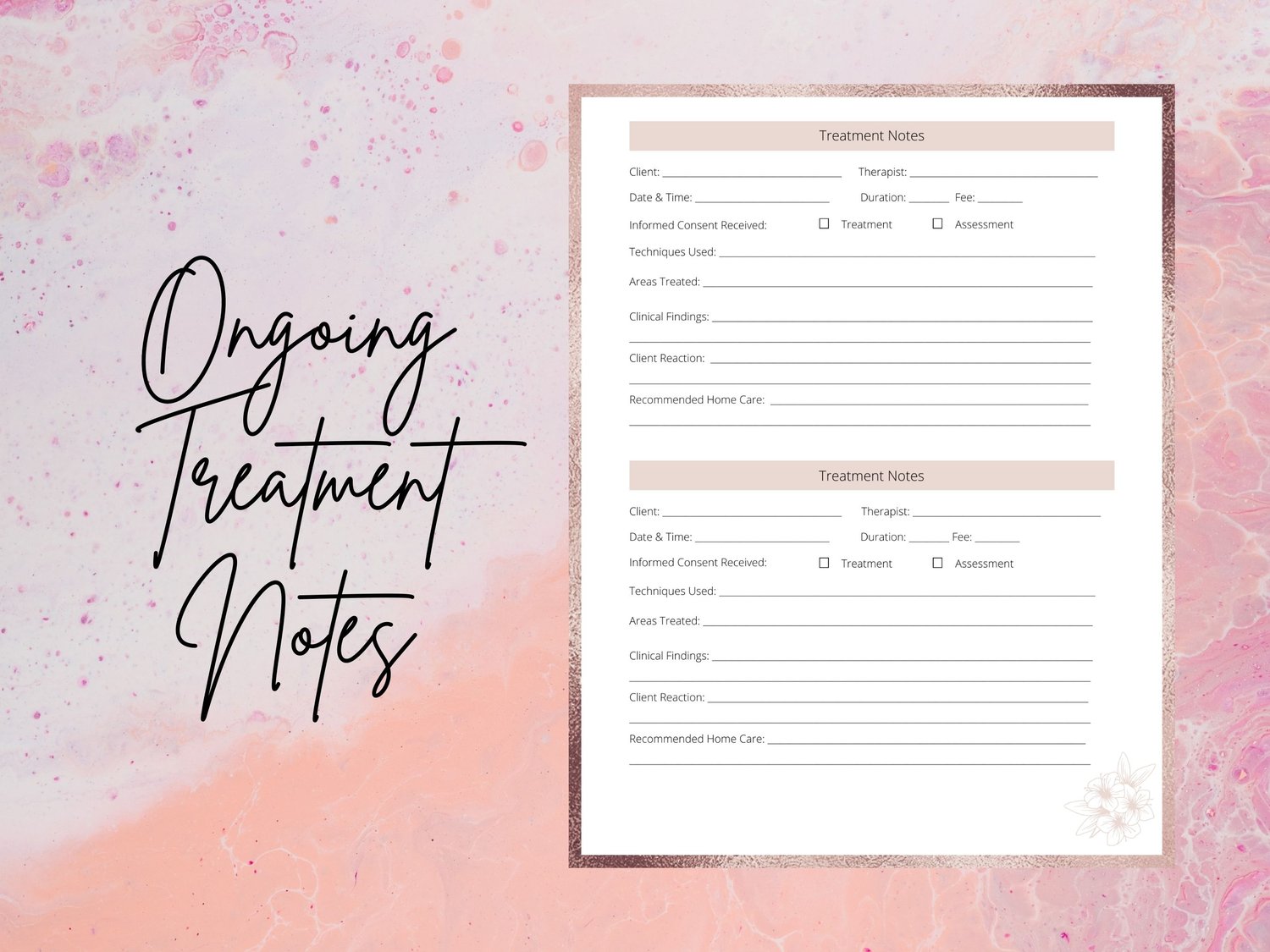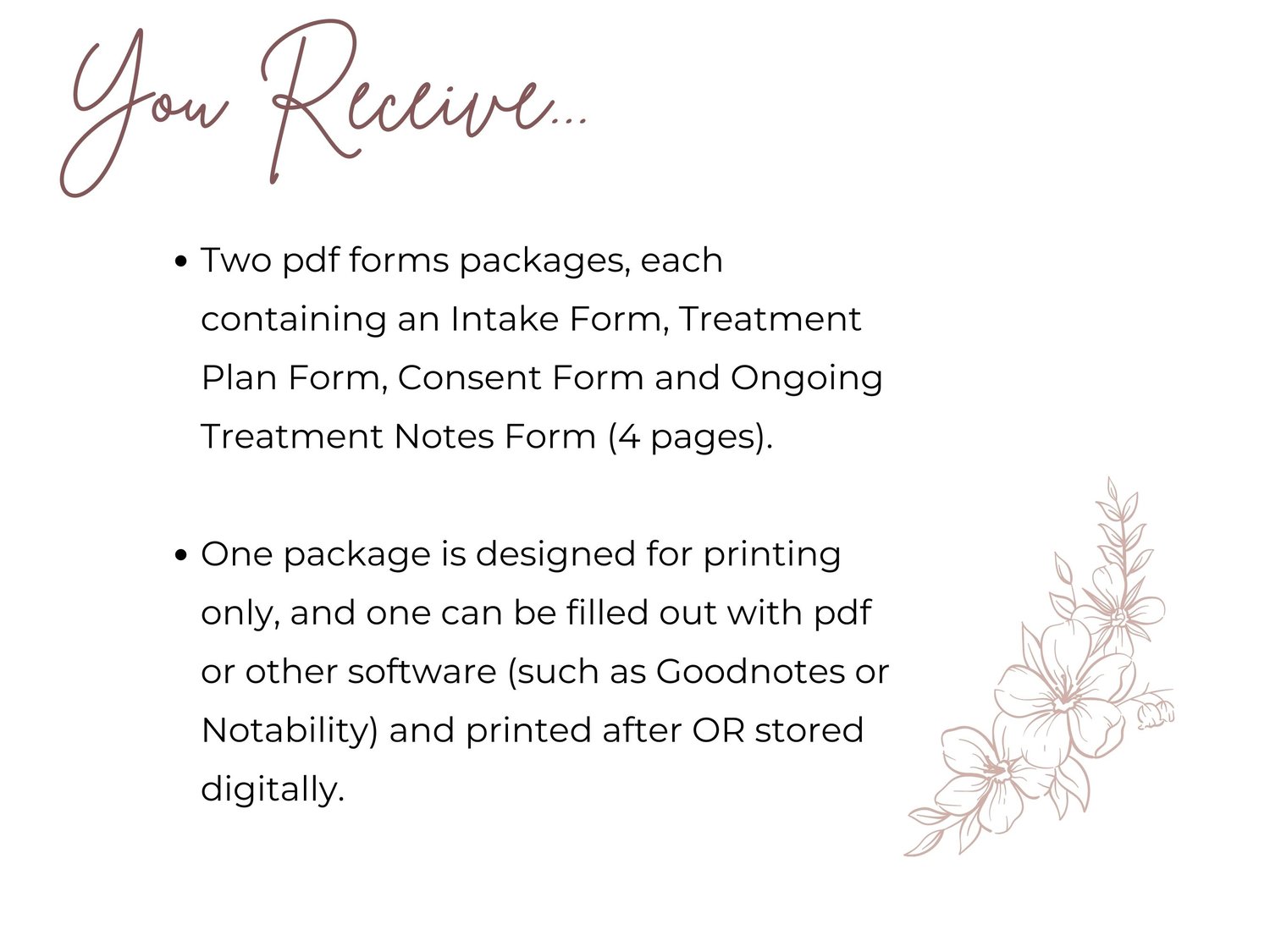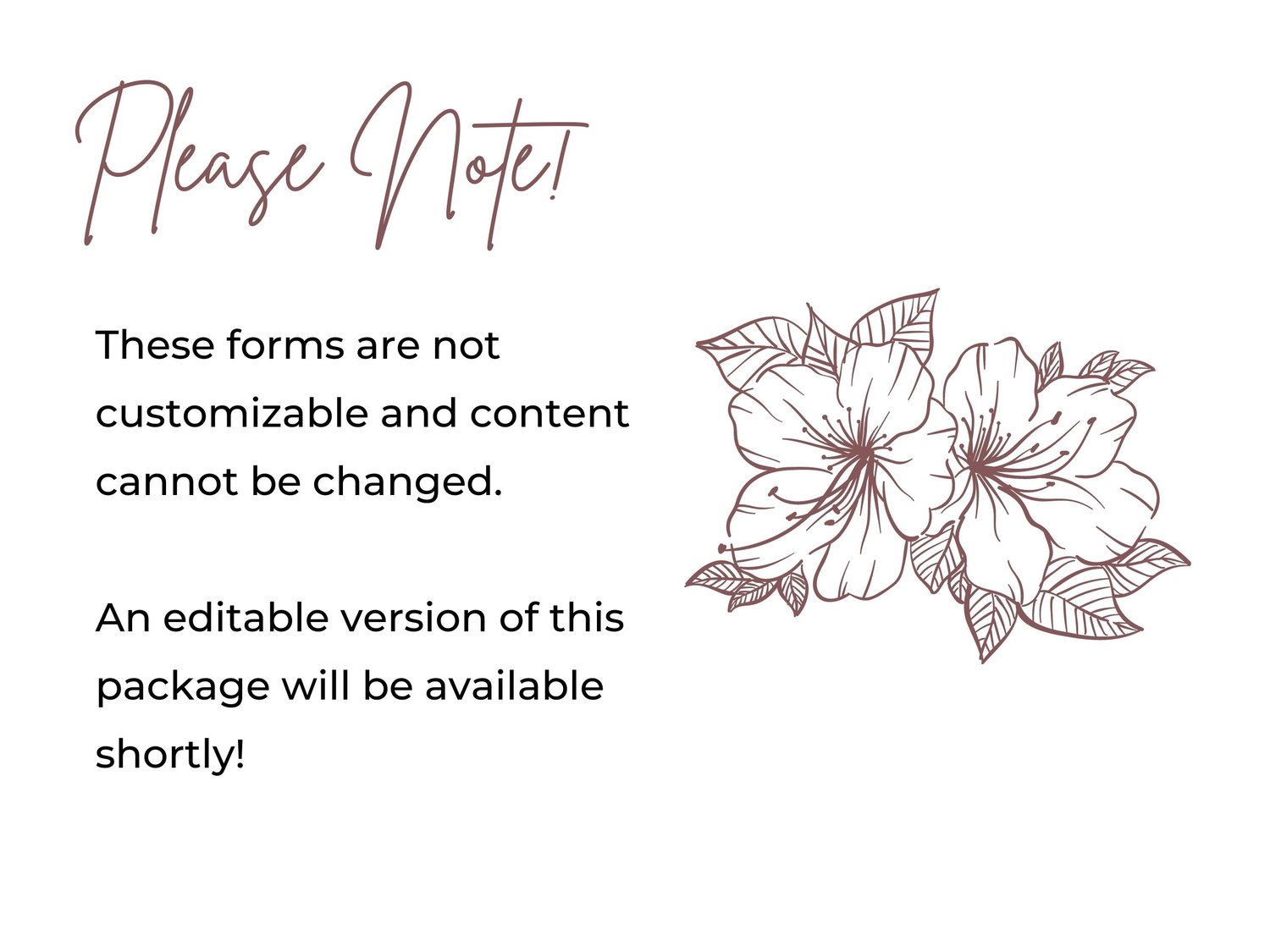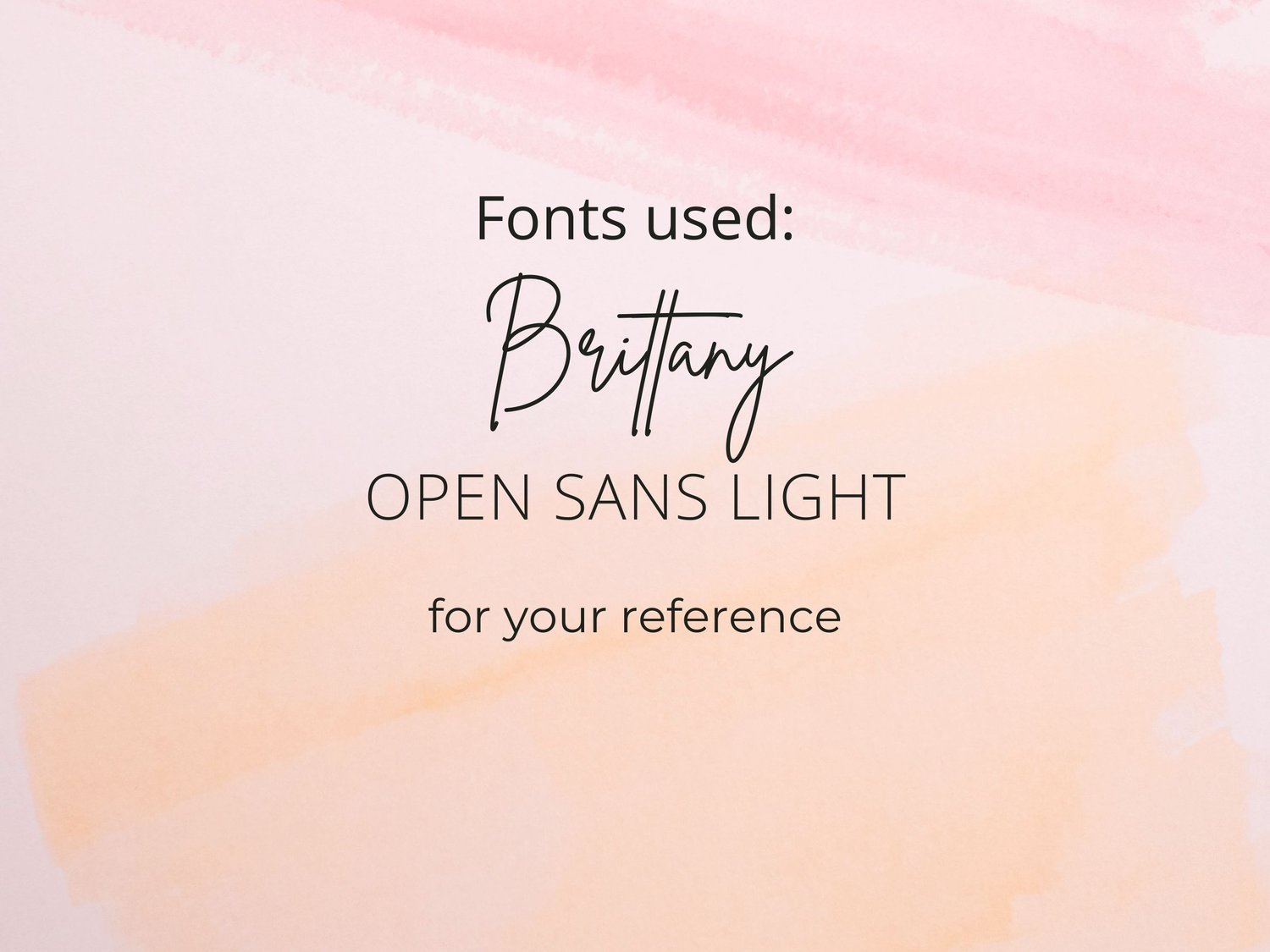 Massage Therapist Client Intake Forms, Massage Consent Forms, Massage Business, Rose Gold and Floral
Please read the entire description before purchase, thank you!
Do you need Client Intake Forms, Consent Forms and Treatment Forms for your massage business? Save time and purchase this bundle! It has been designed with a rose gold and floral theme, perfect for anyone who loves that look!
I am a former Massage Therapist myself, so have designed these with Massage Therapists in mind! I have included the four major forms I used myself when I was in practice.
Designs cannot be edited. However, an editable version is coming soon! Please feel free to contact me and I can let you know as soon as it is published.
These PDF files are designed and optimized for use on an iPad, tablet or computer, or for printing out (pen and paper use!).
What Is Included?
1️⃣ Massage Therapy Intake Form (1 page)
2️⃣ Massage Consent Form (1 page)
3️⃣ Treatment Plan Form (1 page)
4️⃣ Ongoing Treatment Form (1 page)
You receive:
❤️ Two pdfs - once optimized for print only, and one fillable version optimized for digital use (iPad, computer, etc).
❤️ Third pdf with instructions and details to help you.
HOW IT WORKS
After purchase, you will receive three PDF files for your use, as detailed above. Please download all three!
ADDITIONAL NOTES:
- As this is a digital product, no physical items will be shipped to you. You will gain instant access.
- Print as many times as you like, or re-use the fillable version as often as you wish.
- The print quality depends on your printer. Print at the highest print settings for best results.
- All items are non-editable.
- I cannot provide tech support for PDF software or printer settings. I do recommend trying Adobe Reader for iPad if you need something for that!
WANT MORE ROSE GOLD?
I have an entire collection of Rose Gold items!
Rose Gold Massage Quotes: 
https://buy.happylittlebiz.com/b/qUnQs
Rose Gold Blossom Quotes: 
https://buy.happylittlebiz.com/b/tQdF7
Rose Gold Massage Forms: 
https://buy.happylittlebiz.com/b/soz0G
Rose Gold (Customizable!) Massage Forms: 
https://buy.happylittlebiz.com/b/V3Rsg 
QUESTIONS?
Send me a message at
candice@happylittlebiz.com
and I'll get back to you! 
** Please note that these templates are for personal use for you and/or your business. You may not redistribute them or sell them as templates in any way or form. By purchasing this item you agree to these terms & conditions.